WINTER ON THE ROOF - THE DRAFT ALBUM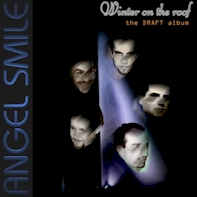 The story : Born in november 2000, this disk is the result of a hard work. Actually we made it with our own ressources (home studio, home cover) and a lot of patience. This record was the small brother of the expected produced album ("Winter on the roof") and was used to get in touch with record labels as a demo of the concept we imagined.

We hope you will appreciate the 8 songs that represent the style of music we elaborated and played between 1997 and 2000.

This album features Emanuel Clivaz (guitars), David Perrelet (vocals), Claude Salvador (keyboards), Arnaud Neri (bass) and Alain Mortier (drums).




Nb
Title
MP3
REAL
1.
Drown in anger
2.
Complain of the bat
3.
Little forest
4.
Springtime
5.
Time
6.
Don't die
7.
Final Day
8.
Winter on the roof